AnnukkaCostelloArt, Studio Nine, Bakers Yard, Alphin Brook Road, Marsh Barton, Exeter EX2 8RG
Welcome to my website, through which you can view and purchase paintings. If you would like to view and purchase my range of greetings cards, cushions and tea towels, then the easiest way is to visit my Etsy Shop.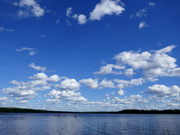 I grew up in Finland, a land of lakes, forests and undisturbed nature. The smell of the earth in spring as the snow retreated, and the sight of the first buttercups of the year, remain sensory experiences I shall always treasure. As spring gave way to summer, we entered a season sometimes described as heartbreakingly beautiful but distressingly short. Nature was at its zenith, as if the full majesty of heaven was briefly manifested on earth. Then, triggered by the first frosty nights, there followed the fiery reds of autumn, and while the elk continued to roam far and wide, the bears busily foraged in preparation for the long winter ahead.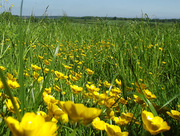 As if all of this wasn't enough to nurture within me a profound love of nature and colour, my mother introduced me at an early age to sewing and knitting with wonderful fabrics. By the age of 12, I was making my own clothes, and being led towards a career in weaving and textile design. However, during the three years I spent studying to become an art therapist, it was to be my love of painting and drawing which would intensify.
So in all my work, I am sharing with you a multitude of rich influences. That painting or tea towel you buy from me, may have a swatch of colour borne out of scarlet blueberry foliage on an autumnal forest floor in a remote corner of Scandinavia. Or it could be capturing the emerald drapes of the aurora in the sky of the arctic winter. I hope you enjoy the connection.
For news and pictures of my latest designs, you can follow me on Instagram or Facebook page.